TCH MINI-STUDY 46
THE WORD OF THE KINGDOM
In The book of Matthew, we are instructed,
Hear ye therefore the parable of the sower.
When any one heareth
[come to the ears of, receive, accept, and understand]
the word
of the kingdom
, and understandeth it not, then cometh the wicked one, and catcheth away that which was sown in his heart. This is he which received seed by the way side. But he that received the seed into stony places, the same is he that heareth the word, and anon with joy receiveth it; Yet hath he not root in himself, but dureth for a while: for when tribulation or persecution ariseth because of the word, by and by he is offended. He also that received seed among the thorns is he that heareth the word; and the care of this world, and the deceitfulness of riches, choke the word, and he becometh unfruitful. But he that received seed into the good ground is he that heareth the word, and understandeth it; which also beareth fruit, and bringeth forth, some an hundredfold, some sixty, some thirty
(Matthew 13:18-23).
In verse 19, some believe that the
word
refers to the bible, or scriptures. But, in verse 19,
word
is translated from the Greek word
Logos
, which means account, communication, message, or utterance, but also is a specific reference to Christ and the gospel of Christ. So, what is this announcement, communication, or message referring to?
The answer is found immediatly after that when the author refers to the
kingdom
. In verse 19, the word
kingdom
is translated from the Greek word
basileia
, which means royalty, rule, realm, reign, a sovereign, or king. The
word of the kingdom
means the account, announcement, communication, message, or utterance of the Kingdom of God, its King, and His realm and rule.
The word of the Kingdom also refers to the gospel [Greek euaggelion, a good message, good news, good tidings, or good announcement, i.e., the gospel]:
And Jesus went about all Galilee, teaching in their synagogues, and preaching
[announcing]
the gospel
[good news]
of the kingdom
[of Christ and His rule and reign]
, and healing all manner of sickness and all manner of disease among the people
(Matthew 4:23).
THE CHRISTIAN HERALD
A Judeo-Christian Bible Study
HE IS DESPISED AND REJECTED OF MEN, A MAN
OF SORROWS
Who hath believed our report? and to whom is the arm of the LORD revealed? For he shall grow up before him as a tender plant, and as a root out of a dry ground: he hath no form nor comeliness; and when we shall see him, there is no beauty that we should desire him.
He is
despised
and
rejected
of men; a man of
sorrows
, and acquainted with
grief
: and we hid as it were our faces from him; he was
despised
, and we
esteemed him not
. Surely he hath
borne our griefs
, and
carried our sorrows
: yet we did esteem him
stricken, smitten of God
, and
afflicted
. But he was
wounded
for our transgressions, he was
bruised
for our iniquities: the
chastisement
of our peace was upon him; and with
his stripes
we are healed. All we like sheep have gone astray; we have turned every one to his own way; and the LORD hath laid on him
the iniquity of us all
. He was
oppressed
, and he was
afflicted
, yet he opened not his mouth: he is brought as a lamb to the slaughter, and as a sheep before her shearers is dumb, so he openeth not his mouth. He was taken from
prison
and from
judgment
: and who shall declare his generation? for he was
cut off out of the land of the living
: for the transgression of my people was he
stricken
. And he made
his grave with the wicked
, and with the rich in
his death
; because he had done no violence, neither was any deceit in his mouth. Yet it pleased the LORD to
bruise
him; he hath put him to
grief
: when thou shalt make his soul an
offering for sin
, he shall see his seed, he shall prolong his days, and the pleasure of the LORD shall prosper in his hand. He sha
ll see of the
travail of his soul
, and shall be satisfied: by his knowledge shall my righteous servant justify many; for he shall
bear their iniquities
. Therefore will I divide him a portion with the great, and he shall divide the spoil with the strong; because he
hath poured out his soul unto death
: and he was
numbered with the transgressors
; and he
bare the sin of many
, and
made intercession
for the transgressors
(Isaiah 53:1-12).
WOE UNTO THEM THAT CALL EVIL GOOD,
AND GOOD EVIL
Woe unto them that call evil good, and good evil; that put darkness for light, and light for darkness; that put bitter for sweet, and sweet for bitter
! Woe unto them that are wise in their own eyes, and prudent in their own sight! Woe unto them that are mighty to drink wine, and men of strength to mingle strong drink: Which justify the wicked for reward, and take away the righteousness of the righteous from him! Therefore as the fire devoureth the stubble, and the flame consumeth the chaff, so their root shall be as rottenness, and their blossom shall go up as dust: because they have cast away the law of the LORD of hosts, and despised the word of the Holy One of Israel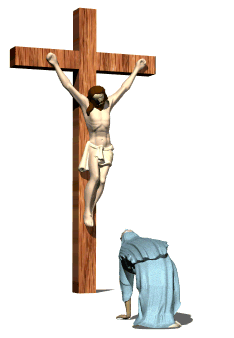 TO EVERYTHING THERE IS A SEASON
"To everything there is a season, and a time to every purpose under
the heaven
: A time to be born, and a time to die; a time to plant, and a
time to pluck up that which is planted; A time to kill, and a time to heal;
a time to break down, and a time to build up; A time to weep, and a
time to laugh; a time to mourn, and a time to dance; A time to cast away stones, and a time to gather stones together; a time to embrace, and a
time to refrain from embracing; A time to get, and a time to lose; a
time to keep, and a time to cast away; A time to rend, and a time to
sew; a time to keep silence, and a time to speak; A time to love, and a
time to hate; a time of war, and a time of peace"
"
Be patient therefore
, brethren, unto the coming of the Lord. Behold,
the husbandman waiteth for the precious fruit of the earth, and hath
long patience for it, until he receive the early and latter rain"
"
Wait on the LORD: be of good courage, and he shall strengthen thine heart: wait, I say
, on the LORD"
"Hereby perceive we the love of God, because he laid down his life for us: and we ought to lay down our lives for the brethren. But whoso hath this world's good, and seeth his brother have need, and shutteth up his bowels of compassion from him, how dwelleth the love of God in him? My little children, let us not love in word, neither in tongue; but in deed and in truth"
"For by him were all things created
, that are in heaven, and that are in earth, visible and invisible,
whether
they be thrones, or dominions, or principalities, or powers: all things were created by him, and for him:
And he is before all things, and by him all
things consist"
WRITTEN FOR OUR ADMONITION
"Now these things were our examples, to the intent we should
not lust after evil things, as they also lusted. Neither be ye idolaters,
as were some of them; as it is written, The people sat down to eat
and drink, and rose up to play. Neither let us commit fornication,
as some of them committed, and fell in one day three and twenty thousand. Neither let us tempt Christ, as some of them also tempted,
and were destroyed of serpents. Neither murmur ye, as some of them
also murmured, and were destroyed of the destroyer. Now all these
things happened unto them for ensamples: and they are written
for our admonition, upon whom the ends of the world are come. Wherefore let him that thinketh he standeth take heed lest he fall"
(1 Corinthians 10:6-12).
FALSE PROPHETS AND TEACHERS
SERVE THEIR OWN BELLY
"

Now I beseech you, brethren, mark them which cause
divisions and offences contrary to the doctrine which ye
have learned; and avoid them. For
they that are such serve
not our Lord Jesus Christ, but their own belly
; and
by
good words and fair speeches deceive the hearts